With the upcoming "
Wrap it Up, Already
" Installation Exhibition by Philadelphia Fiber Artist, K. Pannepacker, we've asked a lot of our friends, family, and people in the community to give us their used wrapping paper, New Years resolutions, and To-Do lists. To which the response always seems to be, "What exactly
is
installation art?"
According to
Wikipedia
,
"Installation art describes an artistic genre of site-specific, three-dimens
ional wor
ks designed to transform the perception of a space. Installation art can
be either temporary or permanent. Installation artworks have been constructed
in exhibition spaces such as museums and galleries, as well as public- and private spaces. The genre incorporates a
very broad range of everyday and natural materials, which are often chosen for their evocative qualities…."
Paramodel's exhibition at Kyoto Art Center in
Kyoto, 2005.

Photo by Seiji Toyonaga © Kyoto Art Center.

Paramodel are Yasuhiko Hayashi and Yusuke Nakano,

an artist duo from Eastern Osaka.
Or maybe Dictionary.reference.com's definition will be better:
Installation Art
:
Art that is created, constructed, or installed on the site where it is exhibited, often incorporating materials or physical features on the site.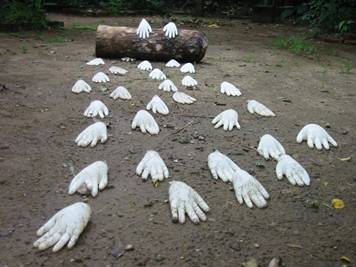 Installation by Myanmar artist Nyo Win Maung,
in Installation Art Workshop series I at NICA,
2003, Yangon, Myanmar


So put on your imagination hat for a minute, and visualize with me. Let's pretend we're going to create an installation piece. We'll use all four walls, the ceiling and the floor in this example, to create our art. People will literally walk through or maybe even on our creation. We'll hang art on the walls, art will dangle from the ceiling, and perhaps sit on pedestals on the floor. Maybe we'll add a few touches that we create off-site, such as life-sized figures or sculptural elements to add to the wall space. We might paint on the walls, or cover them with other materials. In other words, in this imaginary installation, the entire room will become our work of art.

This is only one example of what an installation piece could look like. Like everything art related, there are many ways an artist might create an installation, or interpret the definition of installation art. Installation pieces can be created inside or outside. An installation piece is not limited to a room; it could merely take up a corner. It could be a repetitive object that fills one area, such as one or two walls, rather than the whole room. It can occupy and interact with the out of doors. The only limitation is the imagination, and possibly the physical aspects of the installation location.

We're not entirely sure what K. Pannepacker will do with our gallery, plus your wrapping paper, resolutions, and to-do lists. She'll be creating her installation on-location just days before the Opening Reception. Just like waking up and finding gifts inexplicably appearing under the Christmas tree, this show will be a bit of a mystery until the last moment. I'm looking forward with great anticipation to the unveiling.

So if you'd like to participate with us, please send us, or drop off, your left over wrapping paper, New Years Resolutions (anonymous please!) and To-do lists Tuesday through Friday from 11:00 to 2:00 PM for Wrap it Up, Already!

some things looming
526 washington st
reading pa 19601

~Melanie